People who struggle to walk the length to the restroom owing to infirmity or any other condition sometimes employ commode chairs, portable toilets that can be placed nearby. The trash container that is connected to the toilet is detachable and simple to empty.
Making a living place adaptable is crucial for making a lifestyle easier. It is crucial that those who are reliant on others, such as ageing individuals, are well prepared to handle their declining mobility. To guarantee that older individuals receiving care are in a comfortable environment, it is critical to incorporate all necessary items of equipment into their surroundings.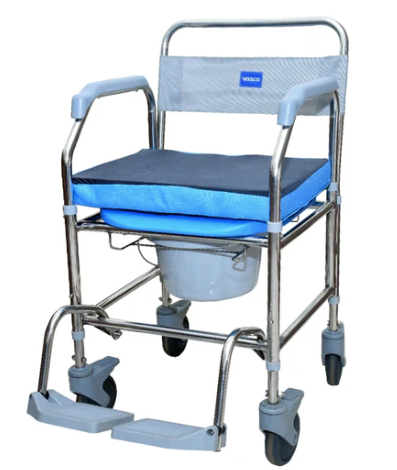 The toilet chair is one of these items. It is a fantastic tool for facilitating pleasant care and is also regularly alluded to as the autonomy chair. People who are unable to move independently frequently utilise commode wheelchairs these days. More and more elderly individuals are choosing these toilet chairs due to their cost and comfort.
The Importance Of Commode Chairs
For those who are disabled, toilet chairs are crucial. They help:
Provide autonomy: No one, regardless of their situation, should have to sacrifice safety and cleanliness. You can use a commode chair to use the restroom independently, requiring more prudence and independence.
Maintains privacy: The need for privacy cannot be overstated, but for those whose biological requirements depend on others, it can frequently cause stress. A toilet chair, however, allows you to depend on yourself. Since you no longer depend on anyone for assistance, it helps you maintain your dignity.
Provide Safety: A commode chair is a safer option since it has support bars, which keep you safe from every hazard that could emerge from moving around by yourself. Apart from that, by reducing nighttime bathroom visits, such chairs can help lower your risk of an accident.
Provide Portability: Commode chairs are easily transportable and may be used anywhere. Elderly individuals can go outside their homes more readily thanks to these chairs' ability to fold up and fit into a car.
Also, read 5 Lifestyle Tips To Improve Life With Disability – Vissco Next!
Commode Chair Types
Check out a few of the most common commode chair designs:
Portable Commode Chairs: Commode chairs that may be transported easily are foldable portable commode chairs. Additionally, they have wheels and take up a tiny amount of room.
Static Commode Chairs: Commode chairs without wheels are known as static commode chairs. However, they frequently have the feature of removable arms for transportation and mobility. They come in a variety of makes and are well-liked by customers.
Bariatric Commode Chairs: Durability is a priority in the design of bariatric commodes. They are capable of lifting 600 pounds, and they are larger and provide ample room for the user to sit comfortably.
Visit Vissconext to know more about commode chairs!