Do you have a futuristic and beautiful home? Do you want to invest in the latest technology and transform your dream house into reality?
Inventors are focusing on making our lifestyle experience futuristic and more convenient by researching & inventing amenities which can improve our living conditions along with enhancing the capabilities of our products. New and improved home installations and products are flooding the market; some already being sold in the market while some in the conceptual phase.
Everyone wants to live in the future, what about you?
The Path Towards The Future
Future is always one second away from the present.
The following are some marvellous innovations which have helped in making our lifestyle a little more convenient and a little more safe:
Bookshelf Shoe Case
As you are already aware of the fact that the population around the world is increasing at an alarming rate, and it is because of limited space that we need to find genius architectural & furnishing solutions to fit everyone happily and comfortably. One such marvellous innovation is bookshelf shoe case. As the name suggests, it can be described as a cupboard which is divided into two parts. The lower half can be used as a shoe case while the upper half as a bookshelf. It can be designed in hundreds of ways, and features like a plank-stool at the intersection or a revolving bookshelf, etcetera can be added as per the desire of the owner.
Save space and encourage innovation!
Solar Roof Panels
Due to over-utilisation of resources, the need for renewable sources of energy is increasing day by day. Tesla Solar Roof, an initiative by Elon Musk, has surprised the whole world because even though the idea of solar roof panels is not very new, but the concept of solar roofs is pretty amazing. He designed thin, high-quality solar roofs which can be installed as a replacement of the traditional roofs, which is then connected to a power panel to store the generated energy. This does not only mean that you don't need additional solar panels on your roof, but also the efficiency that it provides is mind-blowing. And like everything that Elon Musk has ever invented, it is cost-effective as well.
The path to innovation starts with a simple thought.
Study / Bedroom
Furnishing companies are focusing on designs which use less space and allow people to accommodate more amenities in their limited area. One such example of such innovative designs is a study-cum-bedroom. It is a room with a study table and the whole setup, which can be transformed into a bedroom by pulling a string in the corner. The bed slides down and rests right above the study table, with a cute bunk-ladder at one end. Kids just love to climb up and hop on their adorable little beds.
Reflector Lighting Systems
So the architectural experts haven't stopped innovating newer designs, which gave birth to a reflector system concept. It is a concept used by the jewellery stores for many years, but it was never implemented inside homes yet. So the concept can be best explained with an example; imagine a room designed to accommodate mirrors at hidden places near the tube. The mirrors are placed in a way where it can reflect most of the light from the tubelight and direct it around the room. This is a unique concept to save energy and simultaneously enjoy a lit room.
Resizable Table
One of the many furnishing marvels is a resizable table, preferably a dining table. It is no longer a concept, rather a reality but it is still not much popular around the world. The table is designed in a way where its size can be adjusted as per the need. Imagine a foldable table, but better. The panels are designed to open up to take a structure of a much larger table than before, accommodating a much larger audience as well. Now, no one needs to sit on the couch during the holidays; all your family members can sit and enjoy a meal together.
Liquid Screen Protection Gadget for your devices
This clever invention makes it easy to secure your various displays around the house. While developed for mobile phones, it can be used on other gadgets and devices you have around the house. Especially suited for households with kids, this can save you a lot of money in the long run.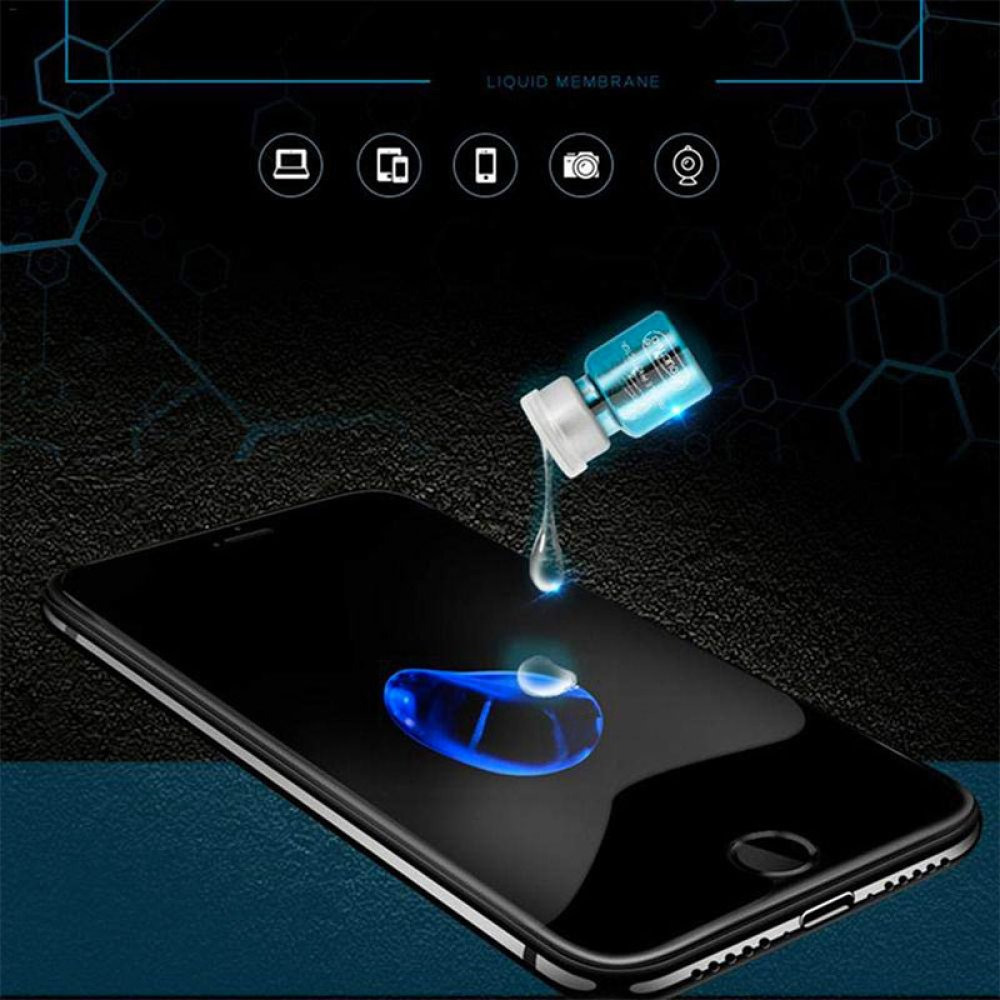 Photo sourced from gstore.dk
Automated Temperature Control System
Sensors are taking over the technology world, helping every gadget and piece of equipment that we own, to evolve into something better. Similarly, sensors can be installed inside any room, and the temperature control system can be programmed to understand all its signals. The sensor can let the system know when to increase the temperature or lower it, or disable the complete system when no one is inside the room for a long time. It merely enhances your automated temperature system and saves your bills on energy consumption.
Command-operated Wireless System
This concept was first displayed in a Disney Channel movie, Smart House. A whole house controlled by technology. The owner was seen commanding an Artificial Intelligence (AI) bot to carry the day to day activities; from waking up and making breakfast for the kids to scheduling their homework and other requirements. It undoubtedly was a dream house for everyone. To make it dream a reality, inventors are focusing on developing the AI programming to help the system understand your needs and react to it. If you get the system installed at your place and integrate all the gadgets with it, you can command it to respond to all your requests and cater to all your needs.
Book Reader Table
A furnishing cum technology innovation for all the book lovers in the world is a book reader table. The concept is being innovated now and then. Earlier, it was a program which can read all types of e-books, and you can just lie on the bed and listen to it. An amazing innovation for bedtime stories adored by all kids. Later, research is being done on making everything digital. People can download e-books or even use paperback books by keeping it inside a system, and it will read your favourite story to you, operated by a mobile app. A projector can also be added to the system, and it can showcase visuals on the ceiling wall, making it a fantasy-like experience. It is considered one of the many amazing IoT innovations.
Melodious Pillow
This is another one of IoT innovations, quite similar to the reader table. It is a creatively designed audio pillow, designed to play soothing music while you sleep peacefully. Earlier, toys had audio bots inside their backs, which could be felt by pressing the back of the toy. But the new design and technology allowed the pillows to have paper-like audio bots to let you sleep on it comfortably and not feel anything against your head.
Sleep to the tunes of technology!
Doorbell Camera
Have you heard of the company, Ring? It is a security invention, which tapped into a new space of home security. Earlier, it was a doorbell with a camera and a microphone, operated with a mobile app. It allowed the homeowner to answer the door without physically going to the door. It reduced the number of robberies because burglars used to ring the doorbell, and unaware people used to open it without any worries. This invention allowed them to know who is at the door before opening the door. Now, more improvements have been integrated into the system. Ring product can now be integrated with the home security system, designed with floodlights and a siren to alert everyone in case of a robbery. It can help you keep your home and your loved ones safe from any troubles. Yes, it is also an IoT invention.
Triple-care Home Security System
With the advancement in technology, the fear of frauds and robberies is increasing too. Inventors are designing a home security system where there are three phases of security programs. A biometric or facial recognition, a numeric code and a mobile app lock can be integrated into your home security system, providing you triple care. Features like adding an emergency code can help you alert the appropriate authorities in case of any danger (robbery, fire or medical emergency).
Invest in the future now
People need to invest in future now to avail an experience like no other. It also encourages the innovators to improve on their innovations and offer you mindblowing products. Dreams are turning into realities every day, which require pure dedication and determination towards it. Hard work and desire to change the world are two primary ingredients of inventing a more comfortable and luxurious future.
Idle ducks die of hunger!
It is never too late to start inventing, so get up, focus on your idea and make something tangible out of it. You never know when you may strike a jackpot with something you once thought was worthless.