Get the best dip stations, if you are looking to push yourself out of the chair, to do some exercise and regain health. Life during this pandemic has glued us to our seats, resulting in minimal physical movements. Meetings, deadlines, long work hours, all of it seems to be never-ending, plus the stress. Well, to deal with all the mental stress, exercise is the best way to get your body and mind into the right space. Also, on days, when everything seems impossible, go to your dip station and exercise. It activates your glutes, shoulders, and all essential parts of your body. If you haven't bought one, check out our list of the best dip stations and choose one.
What Is A Dip Station?
A dip station is a piece of exercise equipment that helps you perform dip exercises. Dip exercises help develop upper body strength and build strong triceps and chest muscles. Dips are a versatile form of exercise that you can modify to target different muscle layers and build core strength. Dip stations are also known as dip bars, dip racks, and power towers.
Why Use A Dip Station?
A dip station is useful when you want to target different muscle groups for a killer workout, without crowding your space with too much equipment. Most dip stations have a compact design that takes up minimal space yet provides a thorough and intense workout, depending on how it is used. You can use a dip station for various benefits, such as building muscle mass, toning the body, improving core strength, or helping with recovery from injury.

1.

Prosource Fit Dip Station

Top 10 Dip Stations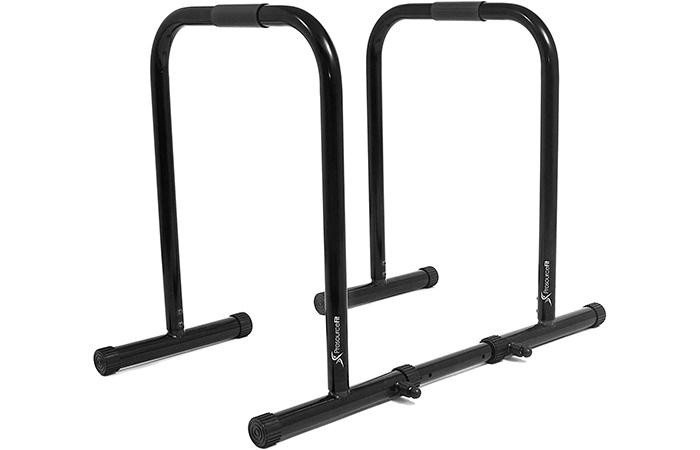 This sturdy dip station from Prosource Fit is ideal for training the upper body muscles as well as building core strength. It does away with the need for weights or bulky equipment that blocks space around the house. This dip machine helps sculpt your muscles by using your own bodyweight for resistance. Its height is adjustable, making it suitable for users of different sizes and heights. Although it is made with iron, the body press bar is refreshingly lightweight and dismantles easily for convenient storage. You can use it for a wide variety of exercises, such as L-sits, push-ups, and classic dips.
Pros
Rubber feet add stability
Padded grips
Adjustable bar heights
Powder-coated iron tubes
Sturdy design
Can support up to 400 lbs weight
Ideal for upper body and core workouts
Easy to assemble and break down
Available in red, yellow, and black
Portable 
Cons
None
2. Relife Power Tower Workout Dip Station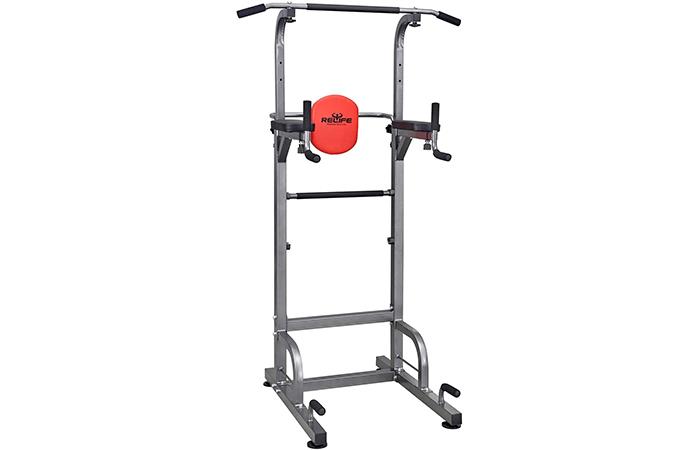 The Relife Power Tower is one of the best pull-up dip stations for strength training. It helps you combine dips and pull-ups into your workout routine and works on different muscle groups using your body weight as the base. You can go through a whole series of workouts, including pull-ups, push-ups, dips, and abdominal raises – all in a single place. The rack works well for users with different body types. It is an excellent tool for developing core and upper body strength with the help of short but effective workouts.
Pros
Sturdy construction
Suction cups for stability
Safety locknut
9 height adjustment levels
4 backrest adjustment levels
Suitable for multiple workouts
1-year warranty on the mainframe
Lifetime warranty on accessories
Can support up to 330 lbs weight 
Cons
None
3. Fuel Pureformance Deluxe Dip Station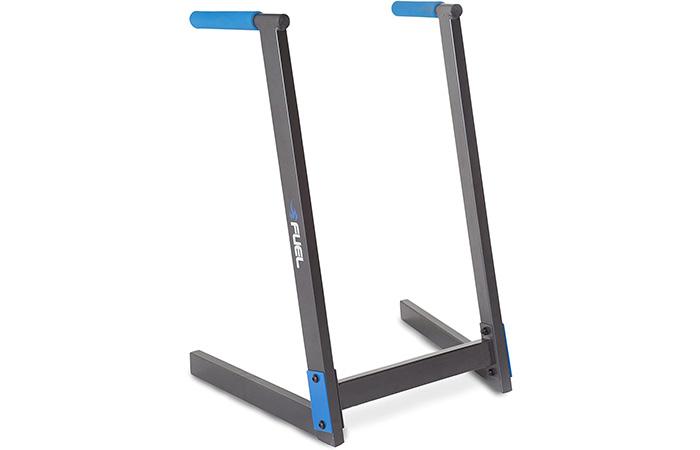 This dip station from Fuel Pureformance features angled grips that are exclusively designed to target your chest and triceps. It has a sturdy construction of steel with a powder coat finish. The design is durable and long-lasting. The bars have padded grips for additional comfort during exercise. The open, pass-through design can be used to make your workouts more versatile. You can power through several different exercises like pull-ups, chest dips, and hanging leg-and-knee raises.
Pros
Sturdy construction
Angled, padded grips for comfort
Suitable for multiple workouts
Powder coat finish to prevent rusting
Open, pass-through design
Portable
Easy to assemble
Compact design 
Cons
4. BangTong&Li Power Tower Workout Dip Station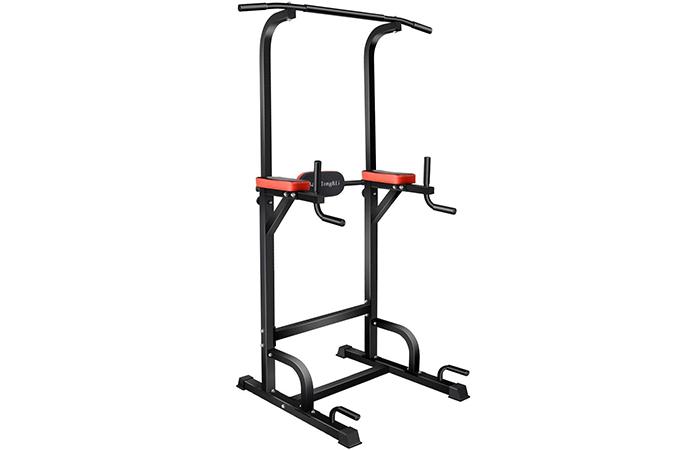 This dip station from BangTong&Li is made using thick, heavy-duty steel and features high-density foam rubber armrests, grips, and anti-skid screws. It can support a maximum user body weight of up to 330 lbs. This dip stand is compatible with a wide range of exercises, such as chin-ups, dips, pull-ups, push-ups, and knee raises. You can use it for strength training to target different areas of the body, including the arms, chest, back, shoulders, and legs. The pull-up bar has an adjustable height, which ranges from 76.4 to 84.3 inches. The ergonomically designed model has back cushion support and soft foam handles for added safety and stability.
Pros
Sturdy construction
Adjustable height
Ergonomically designed
Suitable for multiple workouts
Rotatable safety back
Non-slip end caps
Durable cushion pad
Can support up to 330 lbs weight 
Cons
5. Sunny Health & Fitness SF-BH6507 Dip Station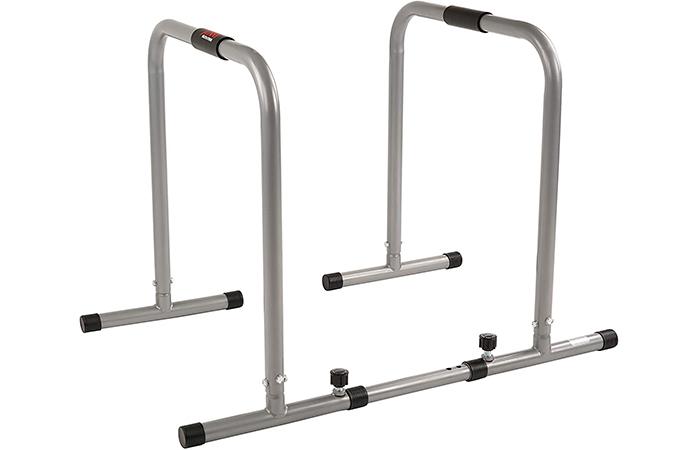 This dip station has a simple yet efficient design that helps you achieve the most with your workouts, all in the comfort of your home. The durable steel frame provides stability and lasts a long time, giving you the confidence to go for intense workouts. It features an adjustable safety connector that lets you set the equipment in a range of 20" to 28". The soft foam grip handles make your exercise more comfortable and eliminate unwanted accidents.
Pros
Solid steel frame
Safety connector
Foam hand grips
Suitable for multiple workouts
Compact design
Non-slip handles
Easy to assemble
Adjustable width 
Cons
Not suitable for very tall users.
6. Black Mountain Dip Station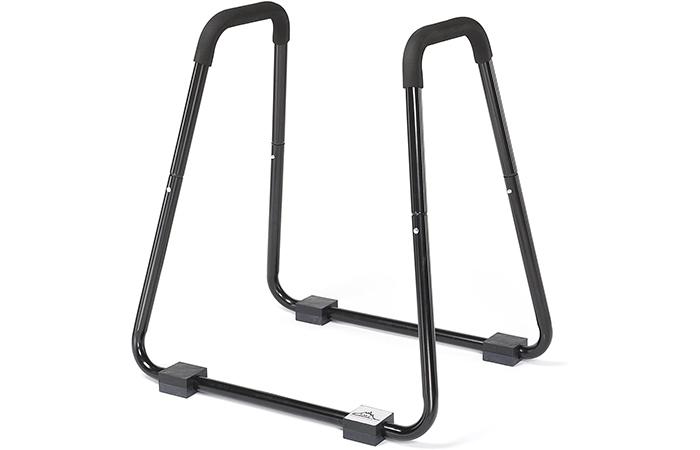 The Black Mountain Dip Station is a high-quality 100% steel exercise equipment rated to support up to 3000 lbs. It is surprisingly lightweight and quite simple to assemble. You can move it around the house without much of a hassle. The compact design also ensures it doesn't take up too much space in your room. The dip stand features foam grips that give you ultimate support while making your workouts extremely comfortable. It also has four stabilizing feet that sit level on most surfaces. The manufacturer's lifetime warranty makes it a worthwhile investment on the path to fitness.
Pros
Lightweight
Ergonomic design
Durable steel construction
Stabilizing pads
Soft foam grips
Lifetime warranty
Easy to assemble 
Cons
7. Rubberbanditz Parallettes Push Up & Dip Bars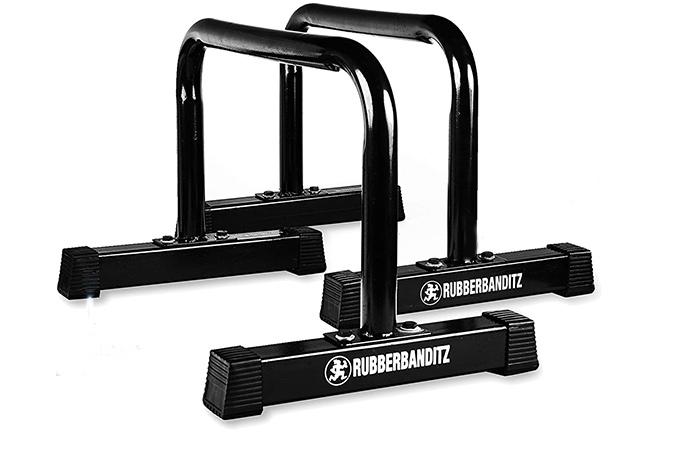 This set of parallettes push-up bars makes it easy for you to practice multiple upper body exercises right at home. These are made of 8 lbs of stainless steel per bar. They are convenient to move around and provide enough versatility so that you can do a range of exercises, such as dips, push-ups, L-sits, and handstands. The dip station is ergonomically designed to provide superior durability and more varied workouts. Bodyweight training enthusiasts will enjoy the excellent workout provided by these bars.
Pros
Suitable for multiple workouts
Ideal for home use
Safe non-skid feet
Full foam top for better grip
Durable construction
Portable
Training guide included 
Cons
Quality control issues
Bars may be uneven.
8. XMark Vertical Knee Raise with Dip Station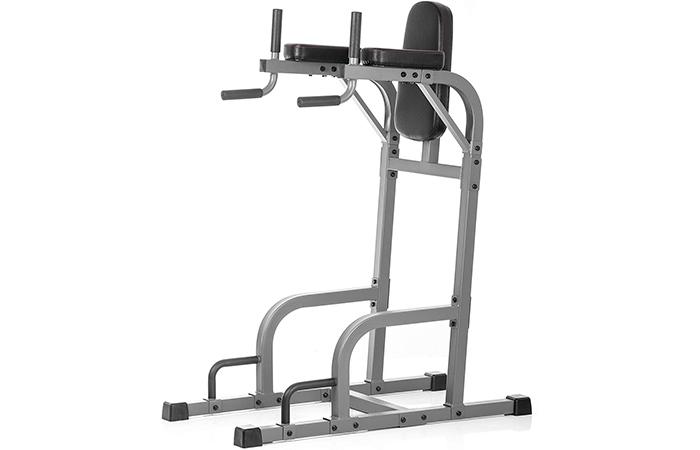 This is a multi-functional workout station that you can use for developing your chest muscles, defining your abs, and increasing upper body strength. The dip station features high-quality back and arm support cushions covered with tear and sweat-resistant vinyl. The rubber grips on the push-up handles provide extra stability and comfort. The long-lasting and sturdy construction has a heavy mainframe with a scratch-resistant powder coating. The skid-resistant feet keep the unit stable and prevent damage to the floors.
Pros
Suitable for multiple workouts
Sturdy construction
Scratch-resistant powder coating
Skid-resistant feet
Rubber grips on push-up handles
High-quality support cushions 
Cons
Availability may be an issue.
Expensive
9. Ainfox Power Tower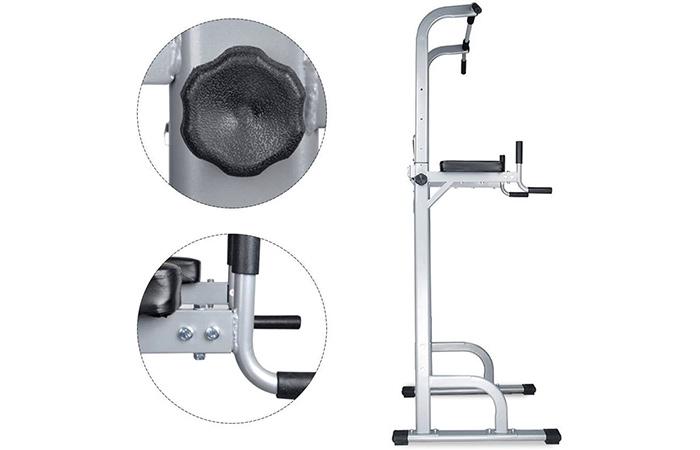 The Ainfox Power Tower is a piece of gym-quality equipment that you can use to give your workouts that extra push. The grips on the handles provide non-slip and comfortable workouts. The durable construction features an oblate reinforced steel frame. Assembly is easy, and you can adjust the height between 64.6″ and 84.6″ according to your convenience. With a variety of workouts using this dip station, you can train your arms, abdominal muscles, chest, back, shoulders, and leg muscles comfortably.
Pros
Adjustable height
Rubber grips
Suitable for multiple workouts
Support cushions for comfort
Sturdy construction
Step-up design
 Cons
Expensive
Availability may be an issue.
10. Stamina Power Tower 1690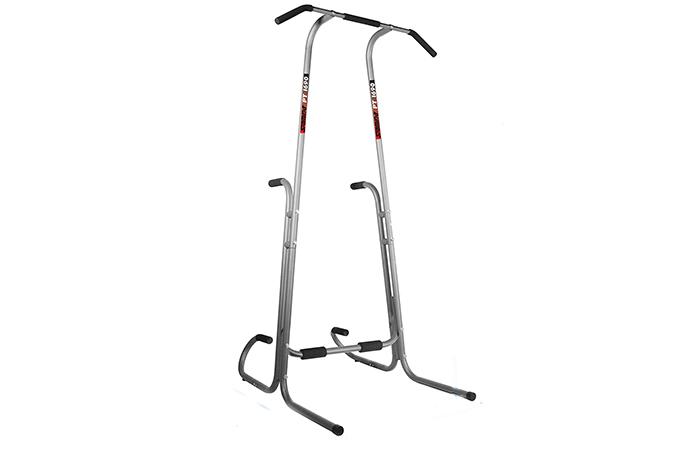 The Stamina Power Tower 1690 helps you build upper body strength and sculpt the muscles on your arms, back, abdomen, and chest. It is easy to use and convenient home gym equipment that provides a wide range of workouts without taking up much space. The dip station makes use of gravity and your own body weight to make your exercise routine as effective and invigorating as possible.
Pros
Suitable for multiple workouts
Secure foam hand grips
Can support upto 250 lbs
Durable
Stable construction
Easy assembly 
Cons
Expensive
Dip handles not high enough. 
Here are a few factors you should consider before purchasing a dip station.
What To Look For In A Dip Station
Dip Station Frame – Make sure that your equipment has a sturdy construction. You want something durable that works well for your size and won't break easily. A dip station worth its money should be long-lasting and made of high-quality materials.
Width Between The Bars – The width between the bars is also essential. Some dip stations allow flexibility here with an adjustable connector that will enable you to set the distance according to your preference.
Stability – Since you will be working with your own body weight, the dip station should have inherent stability that prevents it from toppling over and causing severe injuries. Look for rubber feet that prevent slipping.
Dip Station Grips – Soft foam or rubber provide a good grip that allows you to exercise comfortably. These materials also add stability to your posture and prevent slipping.
Fixed Or Adjustable Dip Station – Many dip stations come with an adjustable feature that lets you tweak the height or width of the equipment. It is a useful feature, especially if you will be sharing the machine with other members of your family.
That was our round-up of the best dip stations on the market right now. If being regular at the gym is something you struggle with, dip stations are an excellent way to stay fit at home. You can use this equipment in several creative ways to keep your body fit and your muscles toned. Take your pick from the choices suggested above and start your journey to a healthy body today!